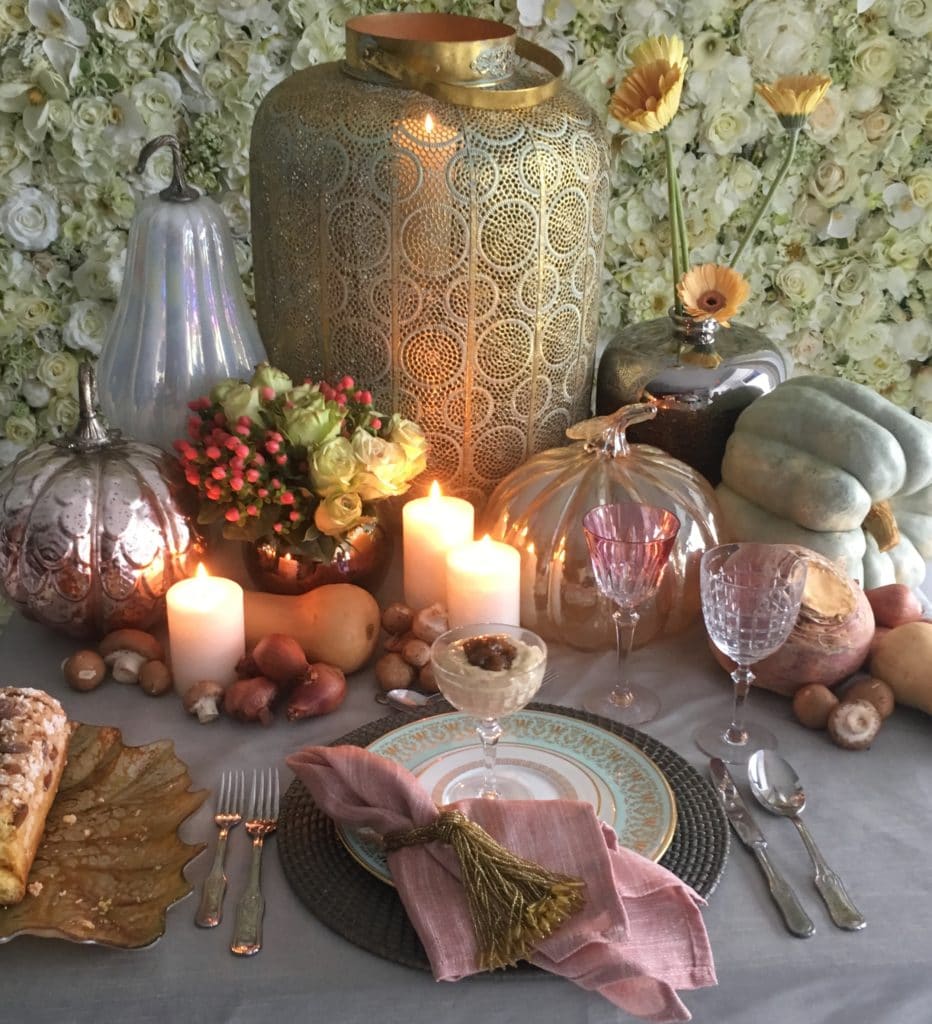 Embrace Newness
We often feel obligated to pay homage to pumpkin patch orange and mustard yellow mixed with brown when setting an autumn table. But this is not the case especially if you are seeking something fresh and new when comes to autumn entertaining.
The featured autumn palette above gives an air of femininity and excitement with it's metallic and pastel shades.
It Began with a Rutabaga
While shopping the produce market, the peperry root vegetable became the inspiration for this setting. 
Rutabaga, in my opinion, are the most beautiful root vegetable. With a lovely outer layer in a soft mauve it pairs nicely alongside it's tablemates of moody colored produce. As it happens mauve pink is one of the colors making a return to the design scene. 
So there I was, standing in the produce market, rutabaga in hand and color matching the supporting cast of seasonal veg. The characters included, butternut squash, shallots, and cremini mushrooms, along with a hearty grey pumpkin. 
When I returned home I continued with the femme color story. Adding aqua dinnerware and the pink and clear cut glass stemware, followed by gold accents, everything seemed to fall into place so easily. That's when you know it works. Design of any sort should never be forced.
Inspiration is all around. Whether we allow ourselves to embrace it and enjoy the new idea, is  entirely up to us.
Flower wall by: Nicol Segel Instagram: @nicolfloraldesign  Website: Nicol Floral Design
---
For more Living Beautifully practices, Join Me and LB on:
Instagram to keep up with the visual feast
Youtube  For upcoming interviews and demonstrations