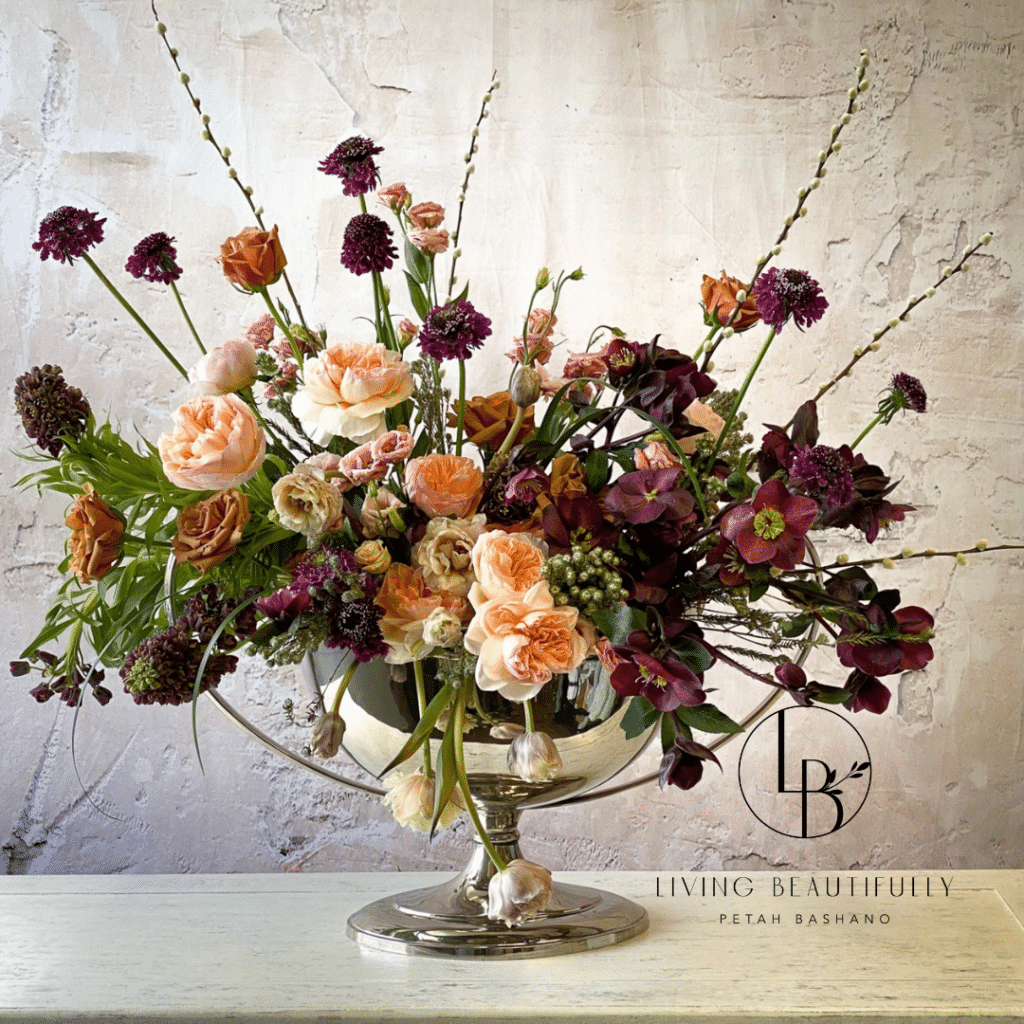 Flower Journal Entry 210412
Present day floral lovers are all a-buzz over these bountiful designs found all over social media. Present day floral work is feeling the new breath with inspirations arriving from historic Netherlands painting subject matter. Event and floral designers are producing the style with their client's high-praise.
But what makes this style of design so irresistible? Where do I start?
First it's the variety blooms. Not one or two varieties of flower, but 5 to 10 varieties in one design. The most interesting idea is using one flower from one family. It gives the impression of, "I grabbed a random selection from my garden." That alone, at the psychology of trends, is the ticket to the style's irresistibility.  Every style period is a reaction to the last. The classic pave designs are here to stay, however the bountiful texture is the reaction to the modernism and clean lines. We saw it first with Boho chic and now we are calling for more than just airy and flowing monotones.
Which brings me to color. The variety of colors are amazing. I played it safe with this palette. But others offer a riot of oranges, white, red, pink peach blue and I am here for it. I need to another in a random color story like above. But trust that randomness is really balanced in both physical and visual weight.
In the design above I used the following early spring blooms:
Scabiosa
Fritillaria
Pussy Willow
Tulips
Hellebores
Lisianthus
English Garden Roses
Ecuadorian Roses
With the chosen palette, I used my favorite mid-tone to jewel tone shades (after all this was made for moi). For me, this palette feels welcoming a little elegant and timely with the cold weather persiting here in Philadelphia.
In the coming summer months I'll post a brightly colored design to answer the call for those tones.
I'd love to hear your thoughts and any color palettes you enjoy.
Have a beautiful spring season.
In love & style,
Petah
---
FOR MORE LIVING BEAUTIFULLY PRACTICES, JOIN ME AND LB ON:
Instagram to keep up with the visual feast
Youtube  For upcoming demonstrations
Facebook Join the LB Community For the best experience