Summer is just about here. If you're like me and love to garden, you take pride in selecting the perfect plants.
Color, texture and shape all play apart in finding the right plants. But the trial and error side of being a novice gardener can be tiresome.
If you read my article on the The Plants for Fall Planting this is similar and features two of the plants featured here. In that article it's noted to think ahead to autumn as you plant for summer.
To help you in your planning efforts here are my top five full sun summer plantings
Catmint
---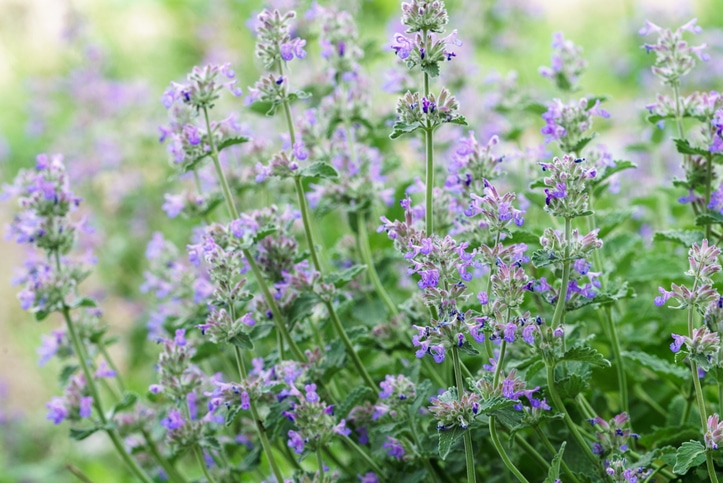 A Hearty perennial that gives a beautiful show all summer. The greatest feature outside of its beauty is Catmint's tolerance of heat and drought. Making it a great plant for the novice gardener.
Once established Catmint survives with little effort. Plants two years or older need trimming back between late June and mid-July depending on your zone. By year three or four they should be propagated sometime after blooming in late September early October.
In our garden, the plants are in a drift planting with other perennials at the front of the beds. The rear of the bed is the perimeter of our outdoor living space. The laterals extend gracefully over the patio's edge, soften any trace of a hard line.
NOTES
Best Time to Plant

Warmer temps are preferred
Late spring
temps should not fall to freezing at night

Colors

Most  commonly seen is lavender/blue
But pink varieties available as well.

Application

Alone or in drifts along walkways or in beds for drama

Care

Full sun is recommended
Water as needed, but withstand drought and heat.
Preferred well drained soil
If plants begin to "flop" after year one, cut back when all the flowers have faded in mid-summer to force another bloom and tailor the laterals
Cosmos
---

Delicate cosmos is a winner all around. If you love flowers and love flowers that give you a total wildflower vibe, cosmos is for you.
My garden is not a wildflower type setting. But a combination of classic forms like boxwoods and soft textures. I use cosmos as a specimen type planting in the beds. Just one plant will bush out enough to a delicate texture and produce dozens and dozens of blooms.
Last year a dark pink was chosen.  This year a pink, dark pink and white variegated flower variety was chose. A sort of guessing game as to what colors will bloom first.
I can't wait to share the images with you.
If you have a flat boring bed and want to add height to the back or create a bank of beautiful blooms, give cosmos a try.
NOTES
Best Time to Plant

Mid spring depending on your geography.

Colors

white
pink
burgundy
dark pink
yellow golden
yellow and more

Application

Single or multi plant beds
leave recommended individual plant space to avoid mildew growth

Care

Well drained loose soil
Let soil dry between waterings for better stronger roots
Cut back after first flower are done to encourage stronger stems
Tall varieties will need staking if planted singularly
Poorly fertilized soil is actually best as rich soil causes weak stems
Dahlia
---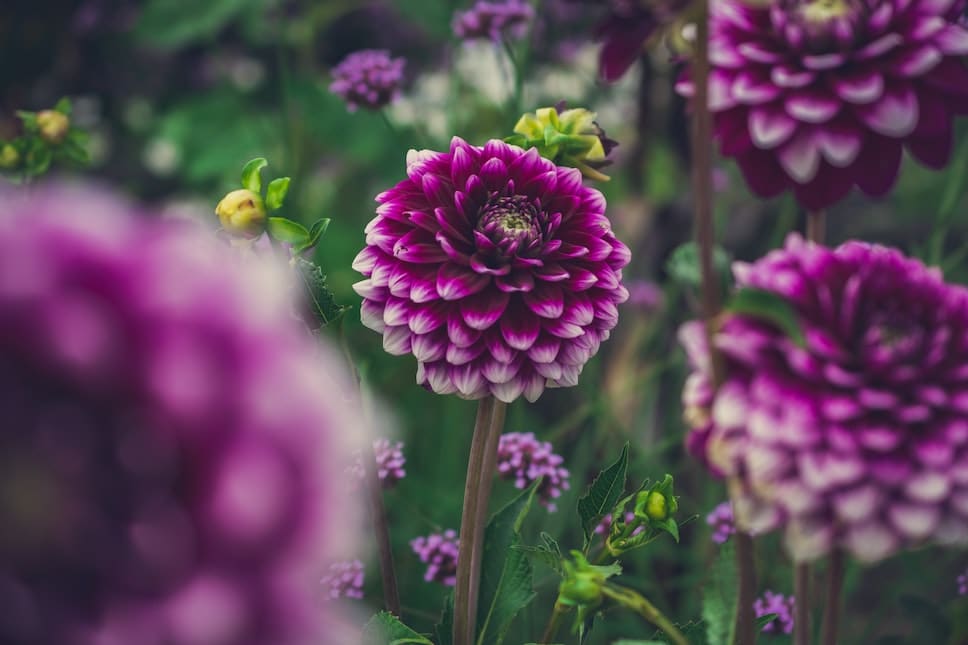 Dahlias are a beautiful bulb perfect for cutting gardens. Some varieties offer a bloom size of 12″ referred to as "Dinner Plate Blooms." These large show stopping blooms are absolutely beautiful. Hard to resist cutting and taking them indoors.
One item I find interesting is the variety of bloom types. From the classic shape ball or pompon, to the cactus variety, to the single bloom (single row of petals), anemone shaped and many more that are so strikingly captivating.
In the picture above they are joined by delicate Lollipop Verbena. Which is a favorite of mine too. It's a great contrast against the large circular proportions of the pompon dahlia.
Stop by Gardenia.net to read more on the variety of flower types. I find their information very informative and complete.
NOTES
Best Time to Plant

Bulbs can be started indoors during the winter and spring outdoors
Pre-grown purchased shorter varieties should be planted after any chance of frost

Colors

Pale Pink to Deep Pink
Taupe
Lavender
Burgundy
Orange
Plum
White
Yellow
Ivory
With Many variegated varieties

Application

Use low growing mounding varieties in beds or containers
Tall varieties are great along fencing or for height in between other bedding plants
They need to be staked so plan accordingly

Pretty garden armatures and even simple dry river can add some architectural interest

Care

Water well in the first week or so until established and then they become drought tolerant
Full sun, well drained sandy soil
Trim spent blooms and unsightly leaves
Minimum of 6 hours a day of sun.
Petunia
---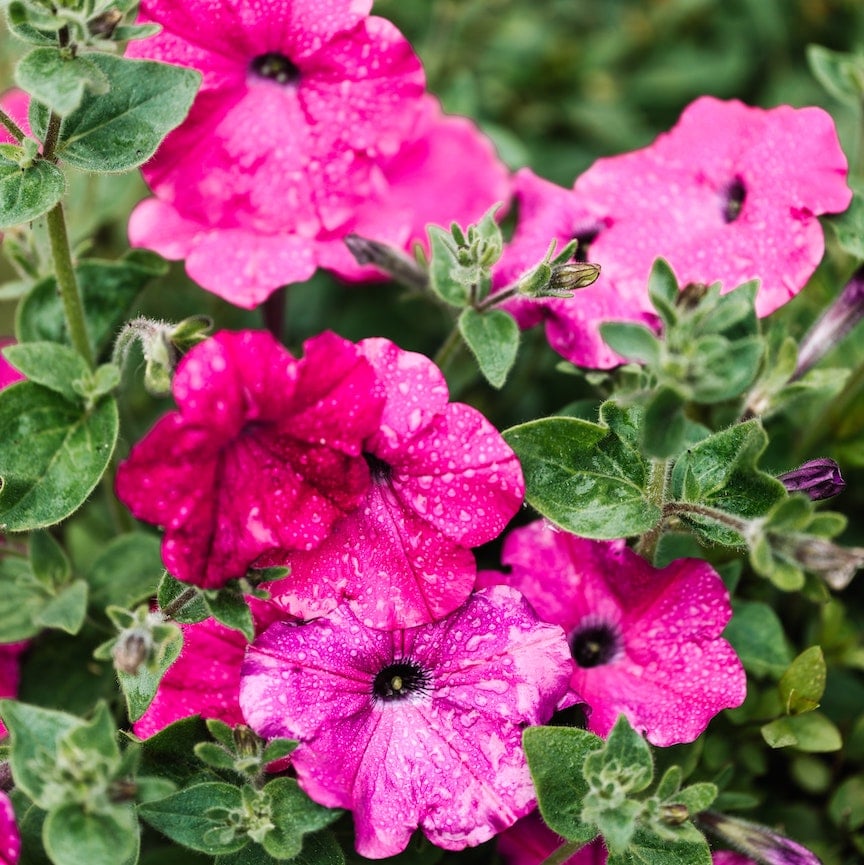 Flowing, billowing mounds of beautiful color all season long. One thoughtful tip is to select a variety that self deadheads. Otherwise you will need to pick spent blooms to create a flush of new flowers. Self-deadheading varieties will be marked as such. For me, it's not a big deal as I am in the garden every morning doing 30 minutes of primping and trimming.
Petunias are at there best in containers or hanging baskets where the cascading waterfall of color can be appreciated in all its whimsical majesty. great to use along with creeping Jenny, trailing vinca, artemisia viburnum and many more.
My favorite is "Mocha." Which is a cream with "black" vein like variegations. The colors match our outdoor fabrics and is paired with a variety of geen ornament foliages.
NOTES
Best Time to Plant

Spring after chance of frost to early summer

Color

From pale pink to dark pink
White
Ivory
Acid green
Plum/eggplant
Violet
And many variegated in combination of the above colors
Mocha: cream with "black" vein like variegations

Application

Perfect for containers window boxes and hanging baskets

Care

daily watering required during the heat of summer
Soluble fertilizer is ideal if amount of soil is shared with a great number of plants
But amending old potting soil is always preferable when planting
Coleus
---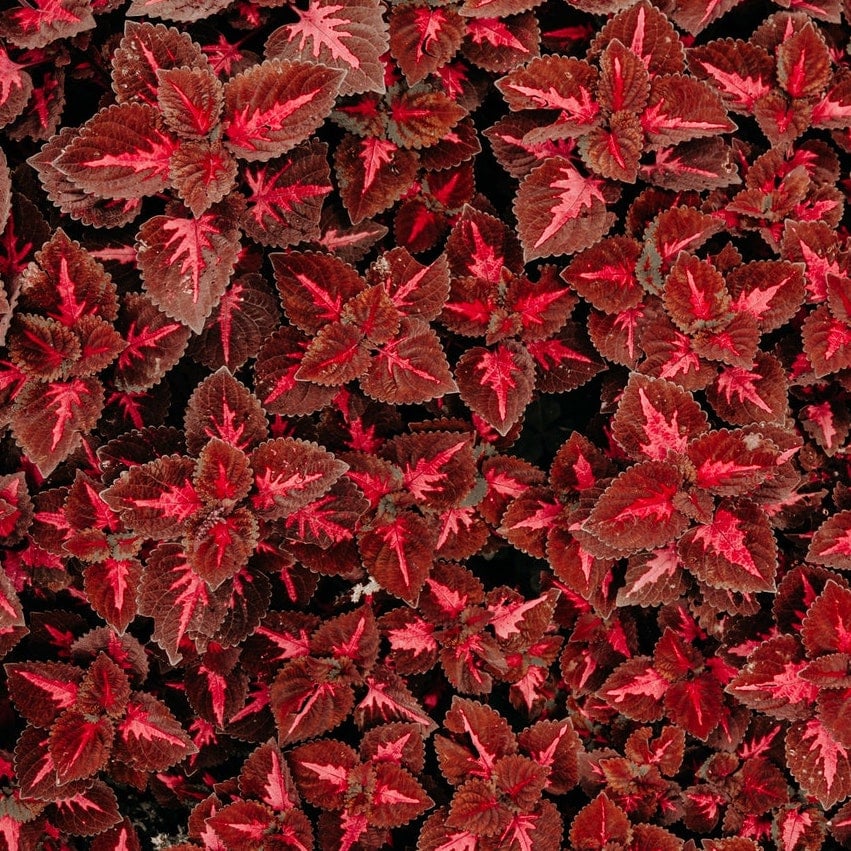 A show stopping plant whose foliage is the center of attention. These colorfully striking powerhouse plants are perfect for summer.
Coleus are often planted early summer. But late summer, at most nurseries and garden centers you'll find them new and ready for the transitional period. Their deeply hued and high-yield chromatic foliage make Coleus great feature plantings singly in containers or adding texture and visual weight to your beds.
Color availability is endless (so to speak). Variegated leaves can range in color depth depending on light. Their colors are found in the red and green color wheels taking in burgundy and plum to deep emeralds, black and acid green tones.
Coleus dislike dryness. They will tell you with their leaves pointing straight at the ground when they are very parched. Other than moderately moist soil they need very little care. Good to note:  a hard frost destroys them immediate, so plant after your region is frost free.
NOTES
Best Time to Plant

Mid spring to late spring after any chance of frost
Can also be planted in late summer for early autumn enjoyment

Color

Too many to list
Visit your garden center or nursery and coordinate with your design
Search the web and you'll discover the enormous color abundance

Application

Great as a medium height plant or back row plant for narrow beds.
Perfect in planters for their tall, dense and deep foliage for interest.

Care

Moderate watering
Late summer heat will require more water.
Creeping Jenny
---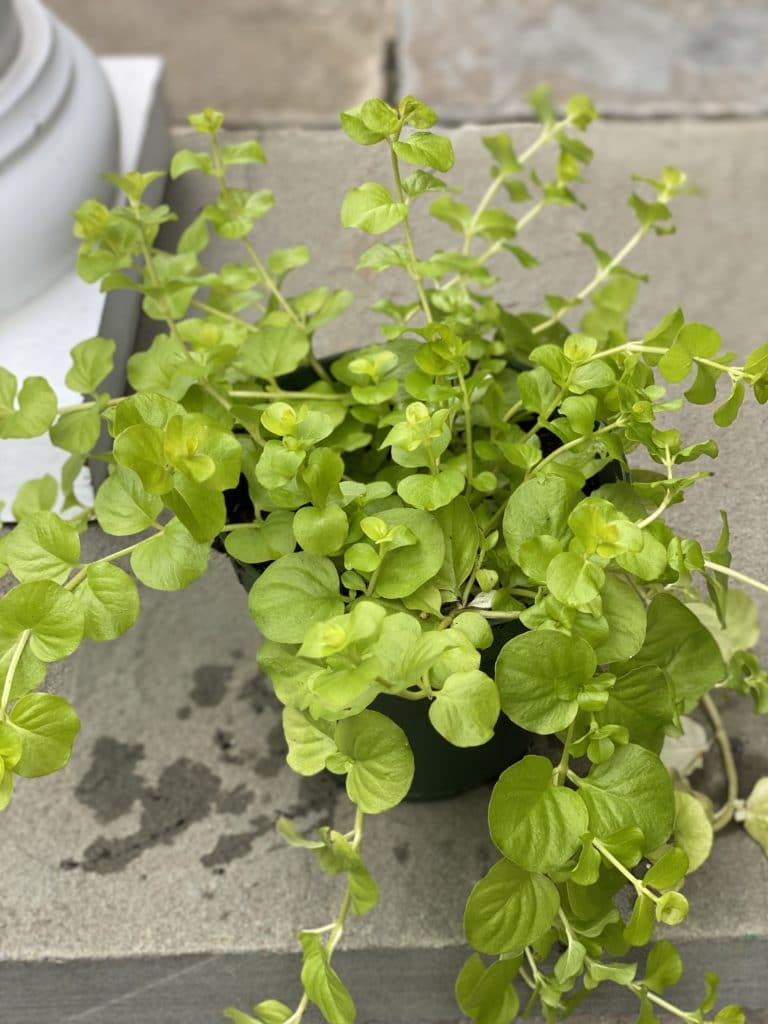 This vine is absolutely perfect if you enjoy sharp colors. Think of this: dark hot pink petunias contrasting with the acid green of Creeping Jenny. Also a wonderful choice if you are a fan of beautiful foliages in your containers for summer. All green containers are not everyone's choice but are definitely a visual feast. A recommended must-try.
This is one of the plants I secured for my plantings. It's featured as a draping ground cover with small tailored topiaries in classic urns.
NOTES
Best Time to Plant
Colors 

As shown in acid green
Can lean to the yellow family as well

Application

Vine plant for containers adding softness and draped greenery
Plant at container's edge

Care

Moderate watering after well established.
I hope you will try something new this year by adding beautiful sun-loving plants to your outdoor environment.
With love and style,
Petah
---
FOR MORE LIVING BEAUTIFULLY PRACTICES, JOIN ME AND LB ON:
Instagram to keep up with the visual feast
Youtube  For upcoming demonstrations
Facebook Join the LB Community For the best experience