(Re-Post and Re-Visit of 2020)
Our usual Thanksgiving Dinner includes 25 to 35 family and friends; but not this year. This year is different, as I am certain most of yours is too. It began to weigh on me that it's been months (almost 11 to be exact) that I last saw them. I began to realize even though I missed them, it was going to be okay. Everyone was healthy, so what more could anyone request? Everyone (all 35) accepted this was a time of sacrifice. We also noted that this sacrifice hugley paled in comparison to other's lives in the world. Let's face it, we had a great deal to be thankful for and new thinking otherwise was utterly selfish.
So please forgive me if my post seems worldly. It was a way of distracting ourselves from the missing thirty-one (my immediate family is four presently).
My brother Paul normally covers the difficult tasks of cooking. I am normally so busy with the holiday's ahead that he and mom do the heavy lifting. I do help plan the menu and create some side dishes. But when you have someone in the family who makes a turkey so juicy and flavorful (plus two whole rolled and stuffed  turkey breasts ala Ina Garten) you step aside! Be sure to grab my "How to Host a Beautiful Thanksgiving Guide" for how he gets the perfect turkey. Therefore, the table planning falls to me.
This year since it is just four, we decided to use  my parent's wedding china. The normal thanksgiving fine china is a grand stack of miss matched beautiful vintage plates from around the world, collected by my mom over the years. It's still a beautiful fine selection, just not the hand painted Royal Chelsea.
The crystal stemware pattern is "Palais." It too is part of the wedding place setting. The flateware, a better stainless pattern given to my parents from relatives. The linens are from our previous family business.  Used at various autumn events I produced. The most interesting combination of persimmon taffeta and a patch work of metallic organza in copper and burnt orange.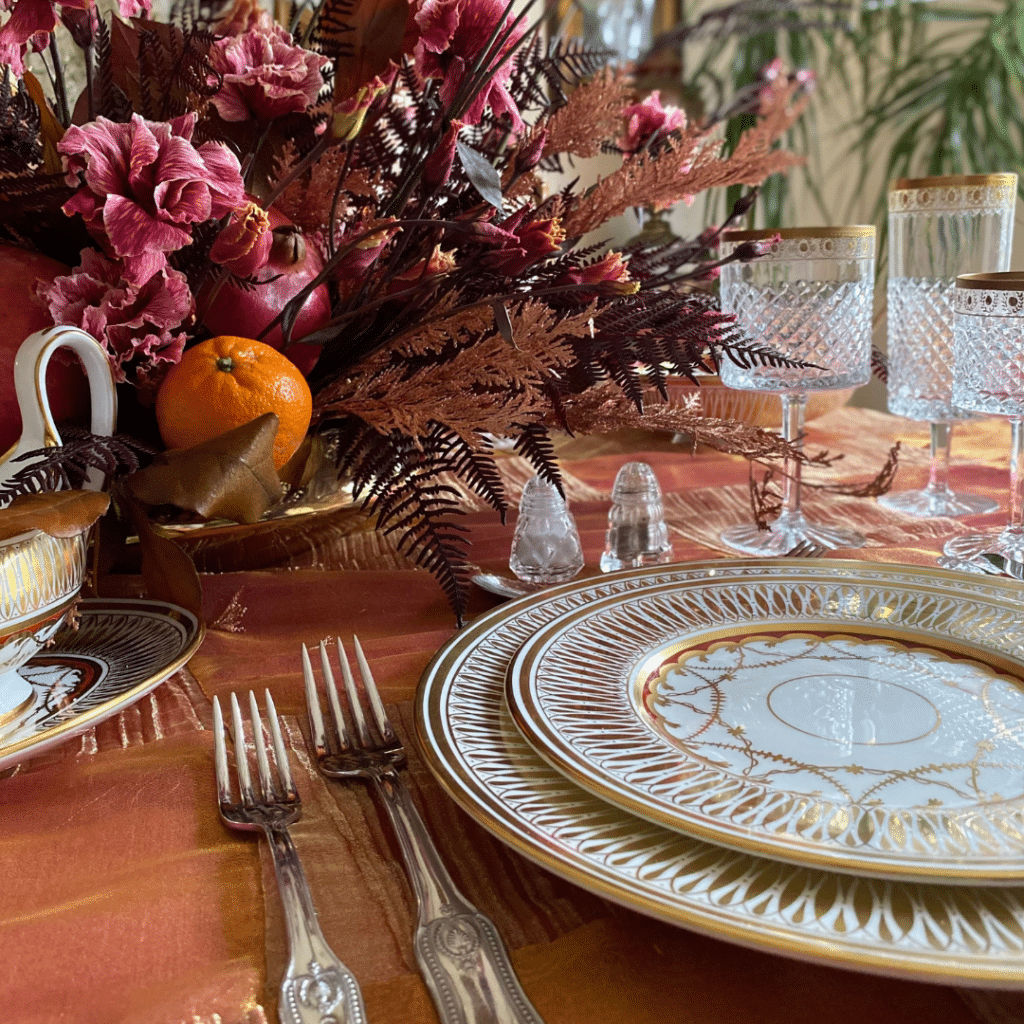 Flowers are usually very simple since we are packed at long a family-style table normally. So this year called for heavier florals. It's Thanksgiving so fruit was definitely in order. Persimmons were my first choice but they were not in great shape. Oranges were the ideal replacement.  Next I chose pomegranates "cracked" open to reveal the beautiful glistening ruby jewels inside. The idea of rustic broken fruit in the middle of formal blooms does my soul good.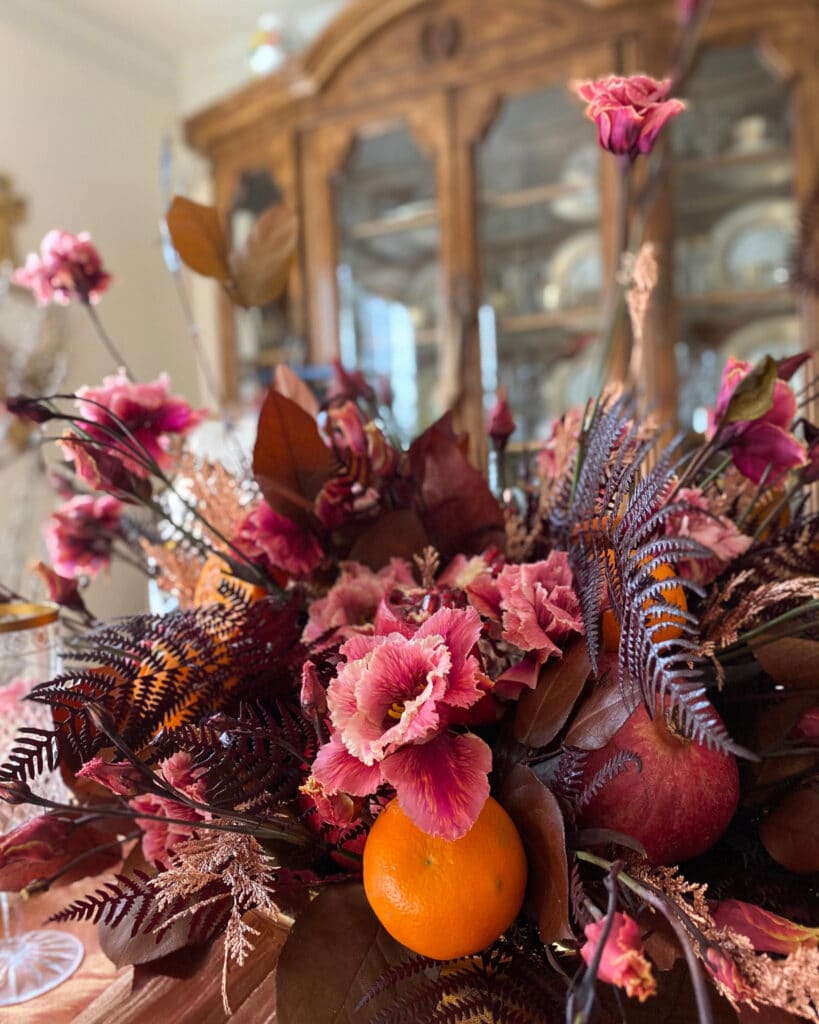 This is a complete list of the items used for my centerpiece
Lisianthus, stem dyed (Holland)
Copper painted cedar (Living Beautifully Shop)
Lemon Leaf, preserved and stem dyed lemon leaf (Living Beautifully Shop)
Bracken Fern, preserved and dyed burgundy
Pomegranates, fresh, whole and broken
Oranges, fresh, whole and halved
I'd love to hear your thoughts and any color palettes you enjoy for Thanksgiving below.
Have a beautiful Holiday.
In love & style,
Petah
---
FOR MORE LIVING BEAUTIFULLY PRACTICES, JOIN ME AND LB ON:
Instagram to keep up with the visual feast
Youtube  For upcoming demonstrations
Facebook Join the LB Community For the best experience