Brunch With All The Glamour & Festive Beauty
Images by: Maddie Flannigan
Video by: Cinemacake
Did you ever meet someone and know immediately they're special? That's exactly how it was for me when I met Nicol.
We met while I owned an event design business in 2015. Nicol had a blossoming silk flower business that features THE most incredible florals & flower walls. There are very few people that I'd say that are beyond the realm of naturally talented. Nicol is one of them. That's not to say my word is gold. But, a solid designer knows another solid designer with incredible talent. She possesses the "eye" of extreme taste. Anyone can learn the mechanics or rules of design; anyone. But it's the use of those rules, the editing, and taste-level that separates the good from the great. To see more of her amazing magic, visit Nicol's beautiful website: Nicol Floral Design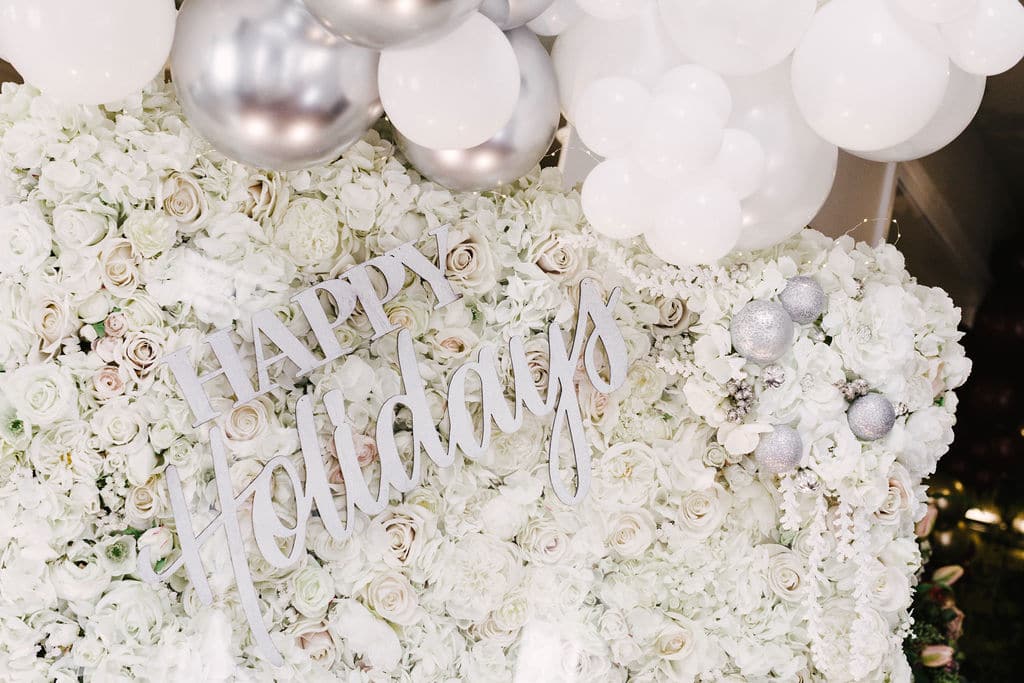 Over the years I've been blessed with Nicol's friendship. Her talent is only matched by her sweet demeanor, personality, and heart. So when she asked if I would collaborate with her on a holiday brunch featuring one of my table settings, I immediately said, "Yes!" While out shopping at our favorite Terrain we fell in love with one of their featured color stories of plum and burgundy highlight with neutrals and bronze. Poof, the inspiration was born. There was no second alternative…this was it. Inspired by the beauty, I snapped up ornaments for the table setting. Nicol made a few trips and procured a bevy of beauties to add to her dinning area tree, fireplace and the other featured areas in her stylish kitchen and formal eating area. Magic…just absolute magic… It was incredible watching her curate and cultivate the entire hospitality room displays with beautiful taste.
Welcome to Party Perfection
Floating sushi, tea sandwiches, & beautiful bubbly…yes, please!
The planning, of course, was perfect. No detail overlooked nor forgotten. Nicol presented everything in the most gorgeous and inventive fashion.
Follow the party's festive journey and learn the inside ideas as it unfolded.  You'll experience all of the festive glam as the guests did that beautiful Sunday.
Be certain to read Nicol's insider answers to a few questions on how she entertains and where inspiration comes from.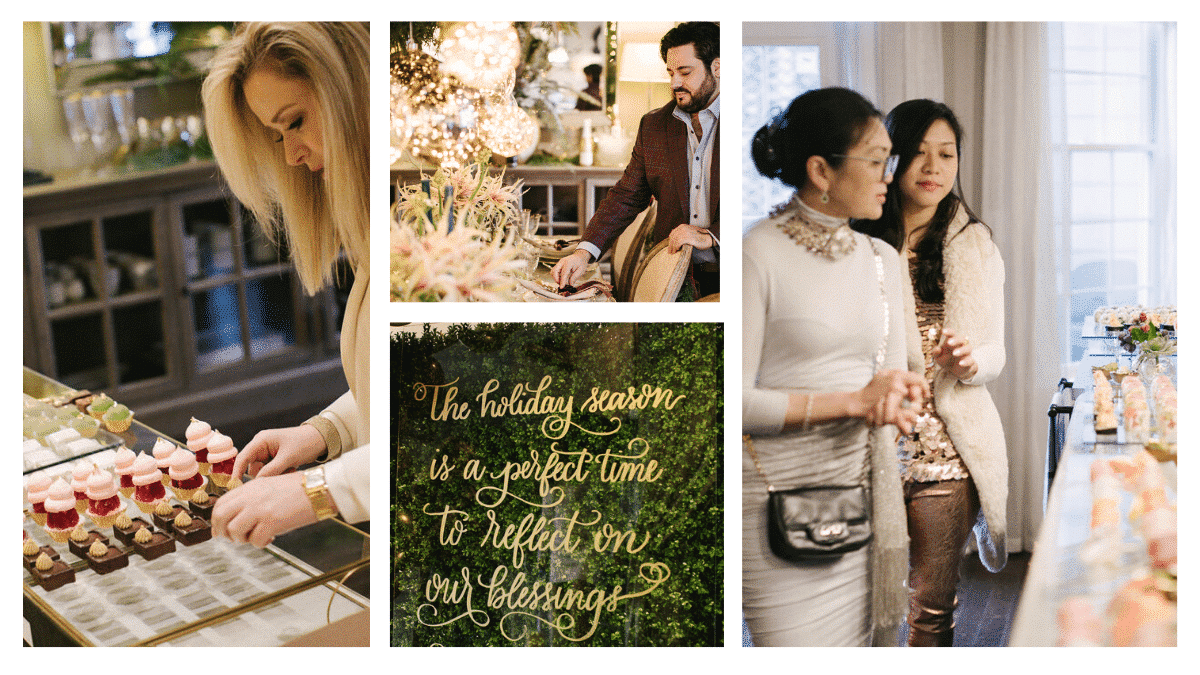 The divine truly lives in the details. Final inspection before guests arrive. Left: Nicol lovingly and meticulously prepares beautiful sweets, Top Center: Me, readjusting and primping the napkin details, Right: Two of the owners of Teikokou in Malvern, mother, and daughter Sutida and Pearl (respectively) inspect their sushi chef's onsite display of the jewel-like sushi.
Preparations
Everything begins with a plan, focus, and good taste
Nicol began preparations weeks before the event. One of her tips (you'll find them at the end of this post in her interview questions) is preparing early enough so you can enjoy your party. Decisions on food displays, the photo booth, layout, flow and more were put into action three weeks prior. Nicol shared ideas with me as they unfolded, all of them so perfect and exciting.
Special glass slender platforms were custom made and set on gold risers to create the look of floating food. When completed, the design reminds you of selected small treasures in a stylish boutique. Even the bottled Voss water was displayed in this fashion at its own special service area.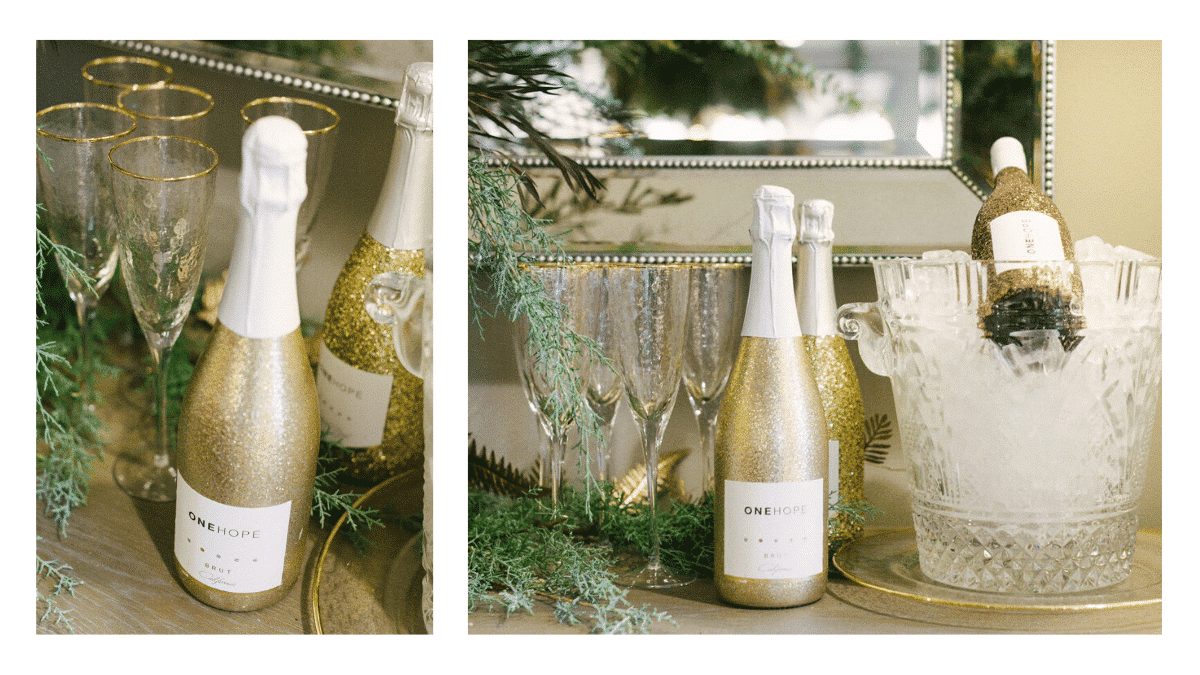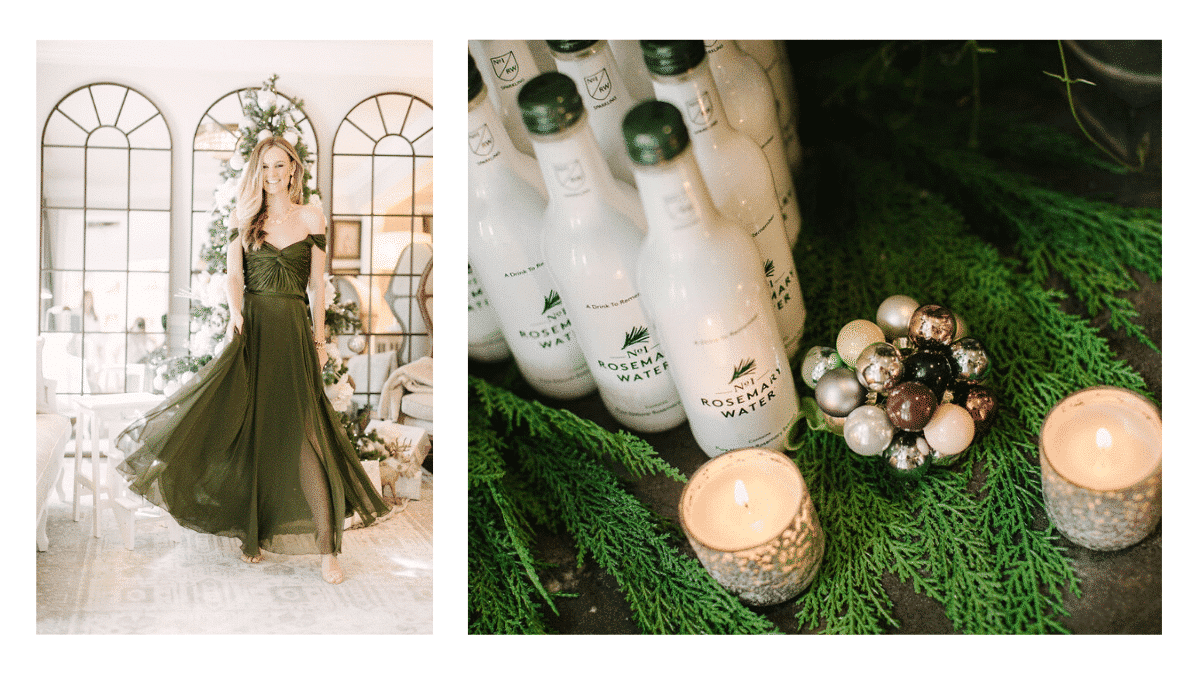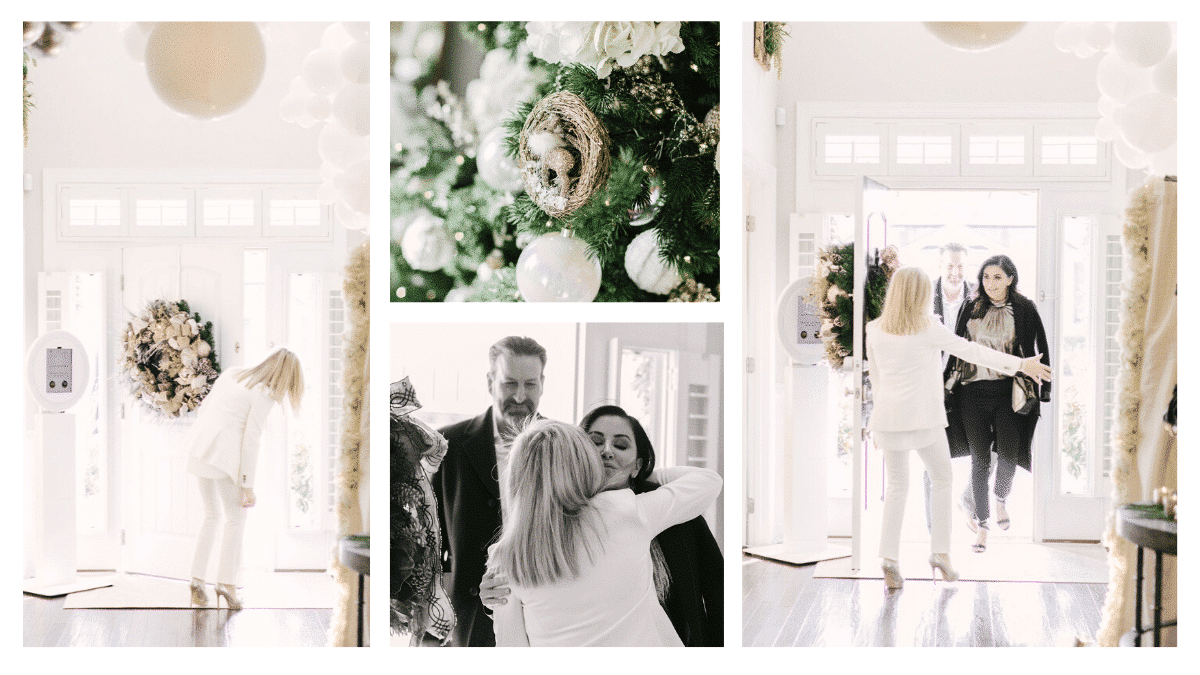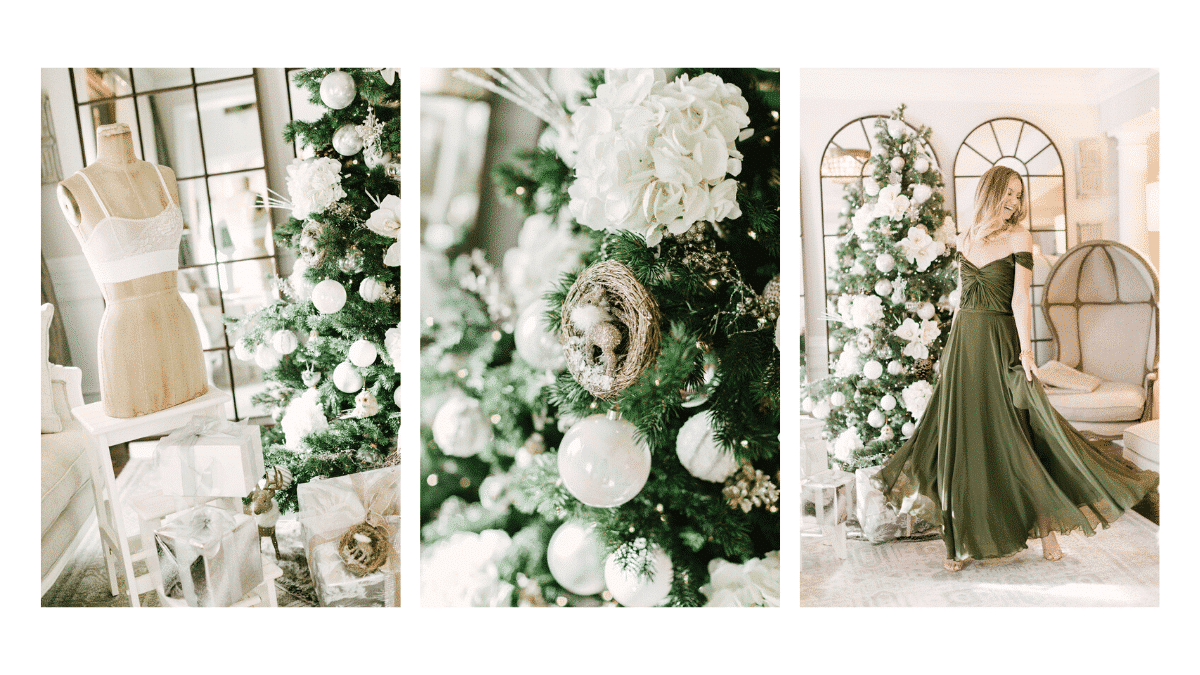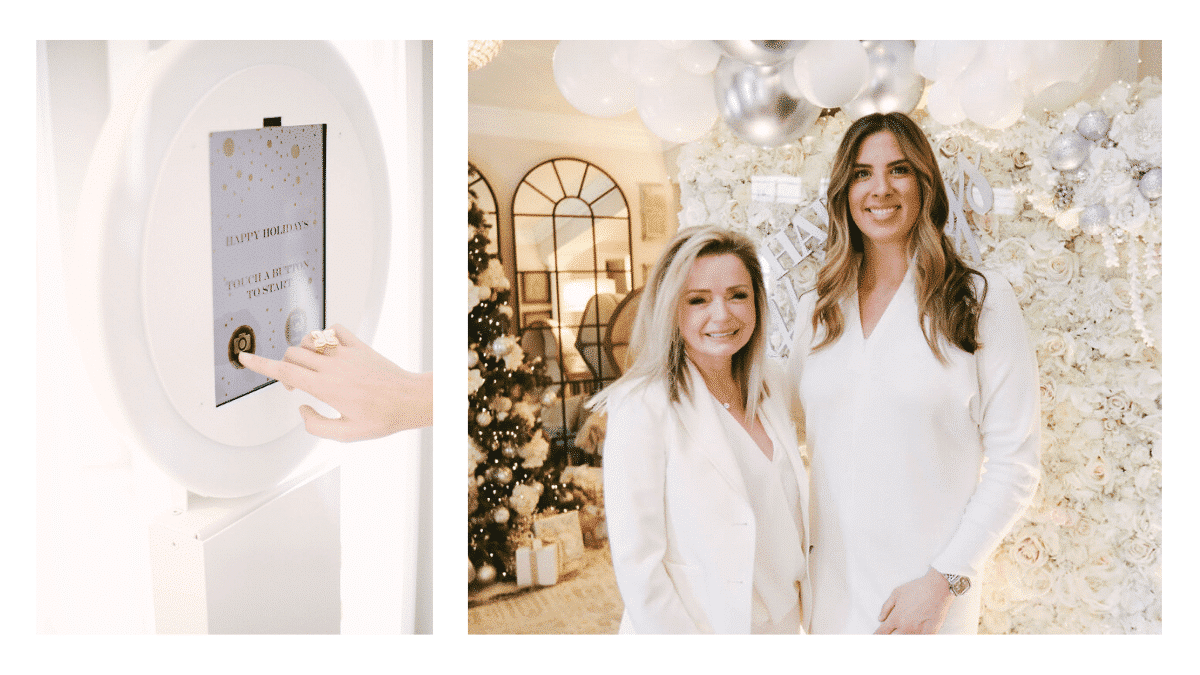 Enjoy the BeautifulParty Via a Video From Cinemacake
If you're like me you're always looking for more, so be the voyeur you know you are and have a glimpse into this amazing event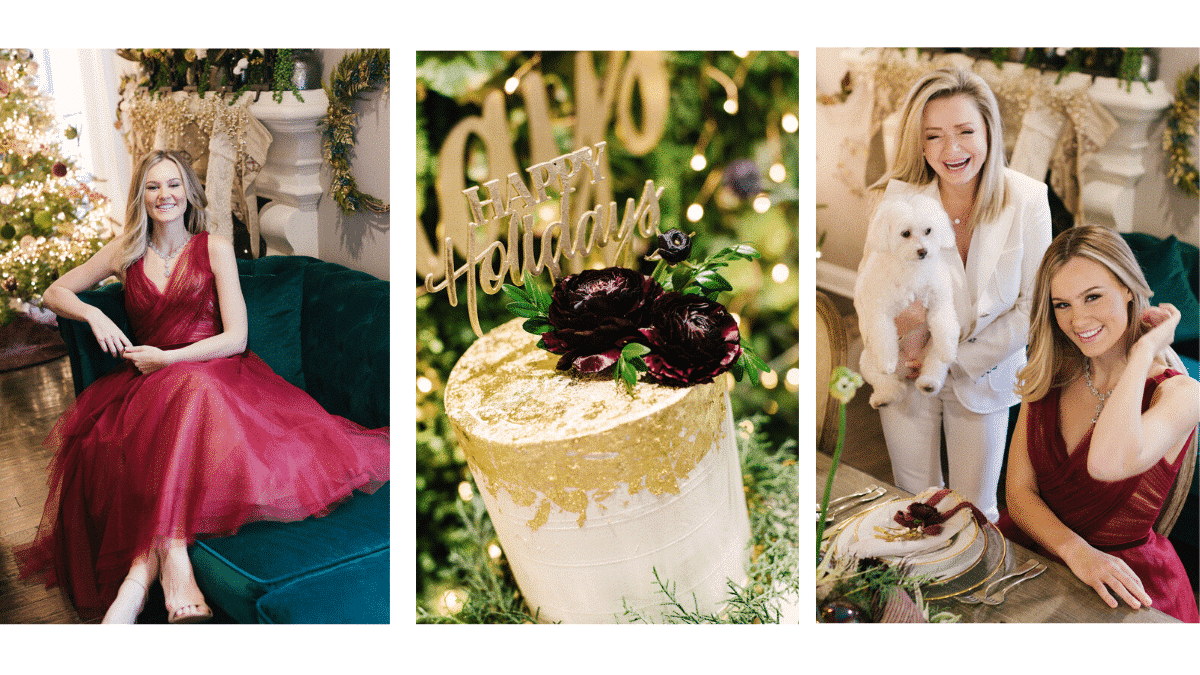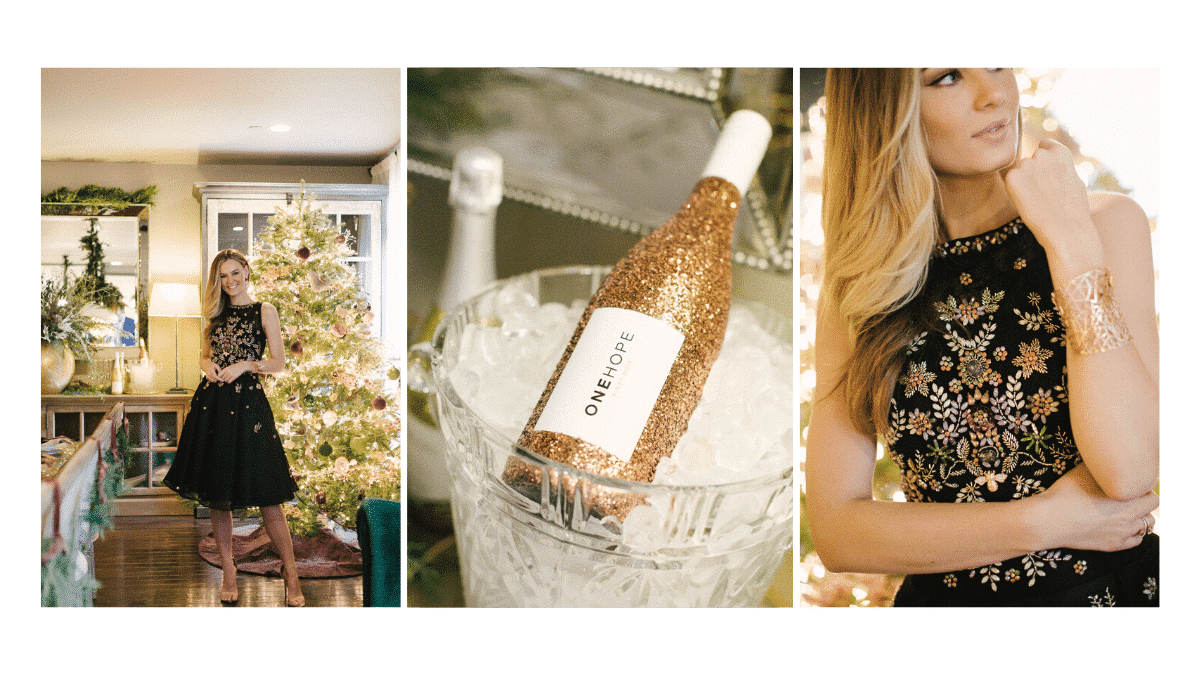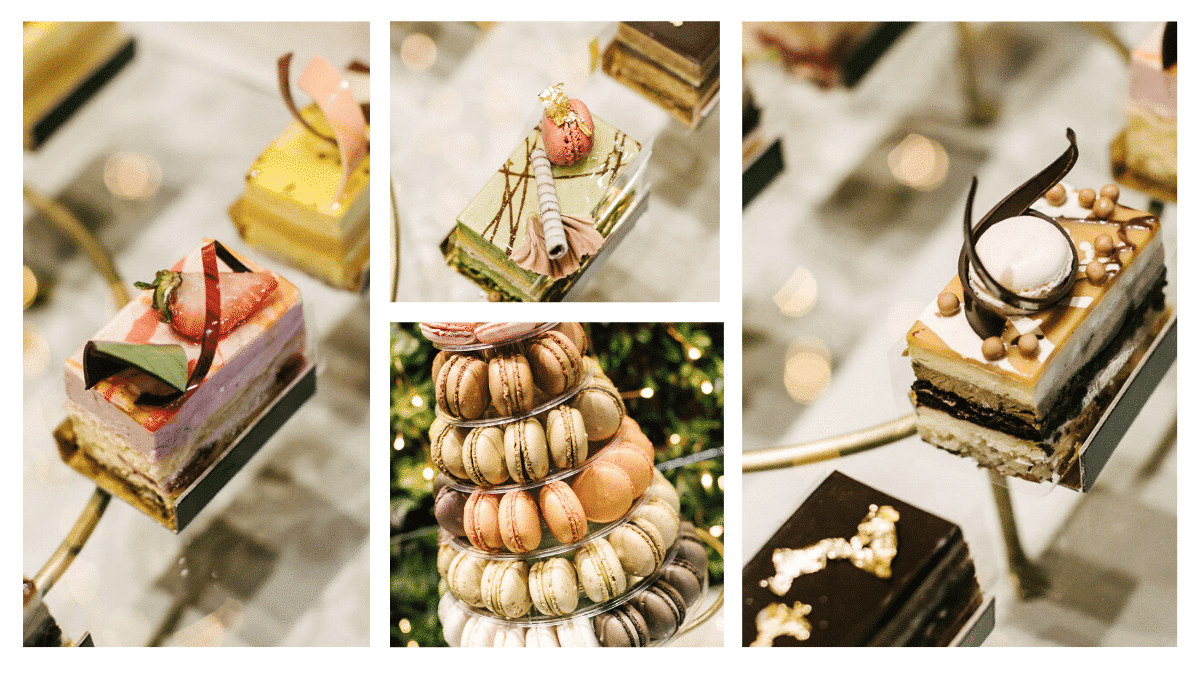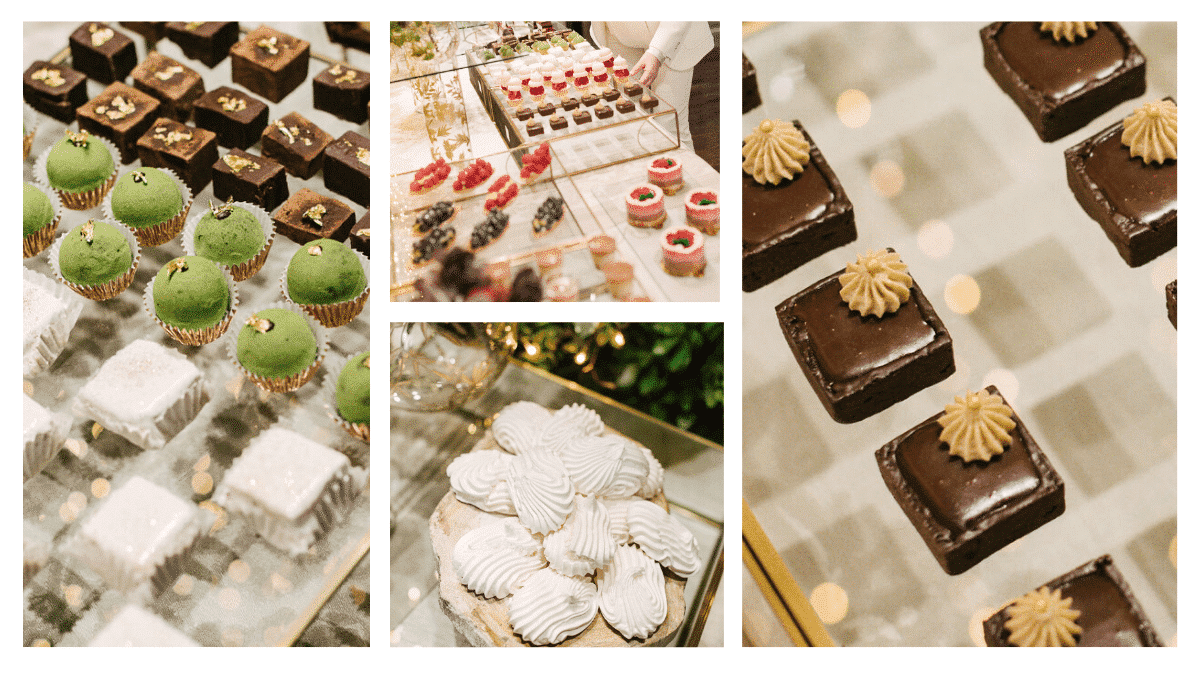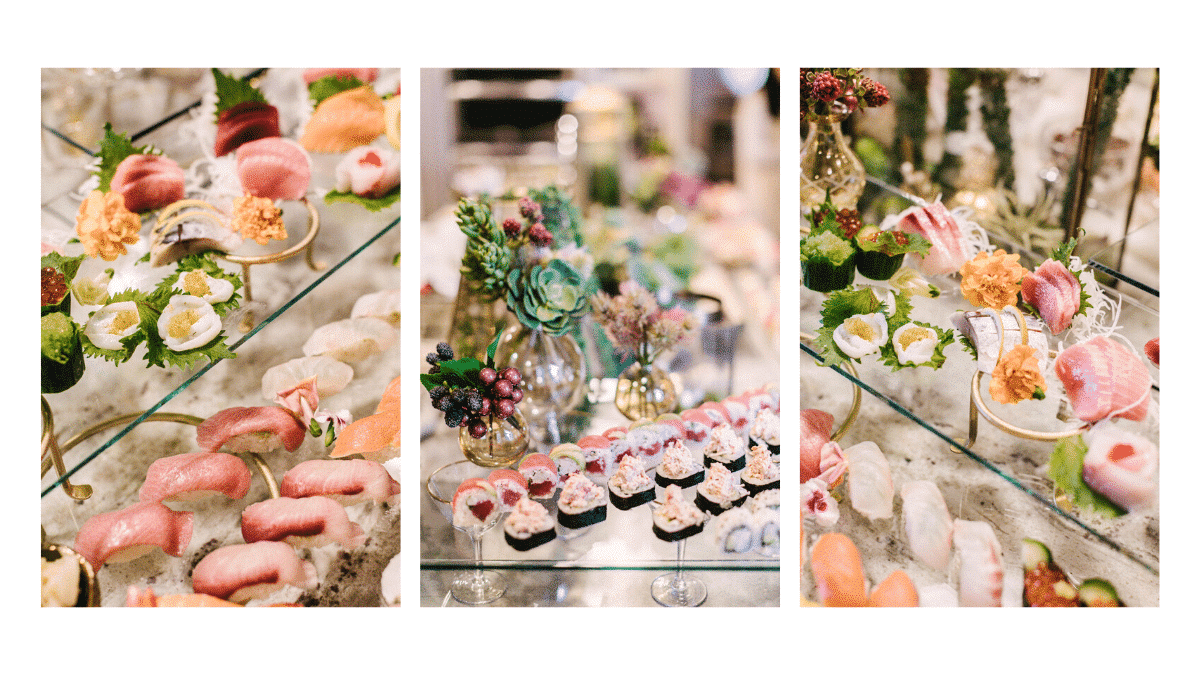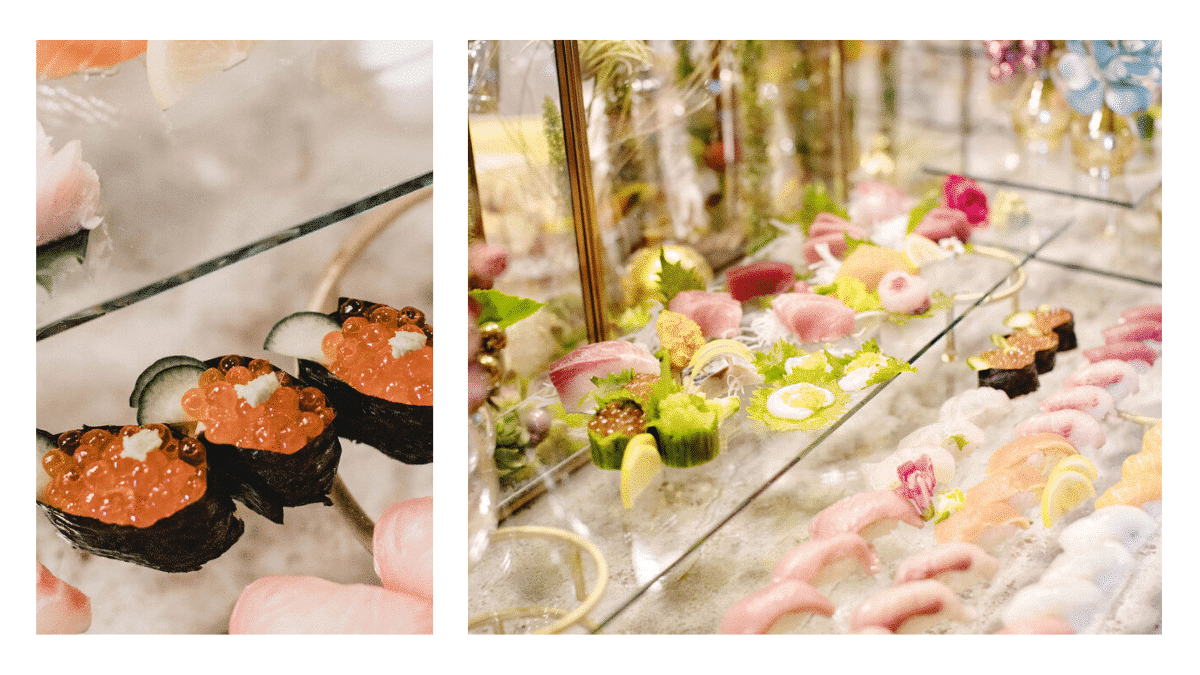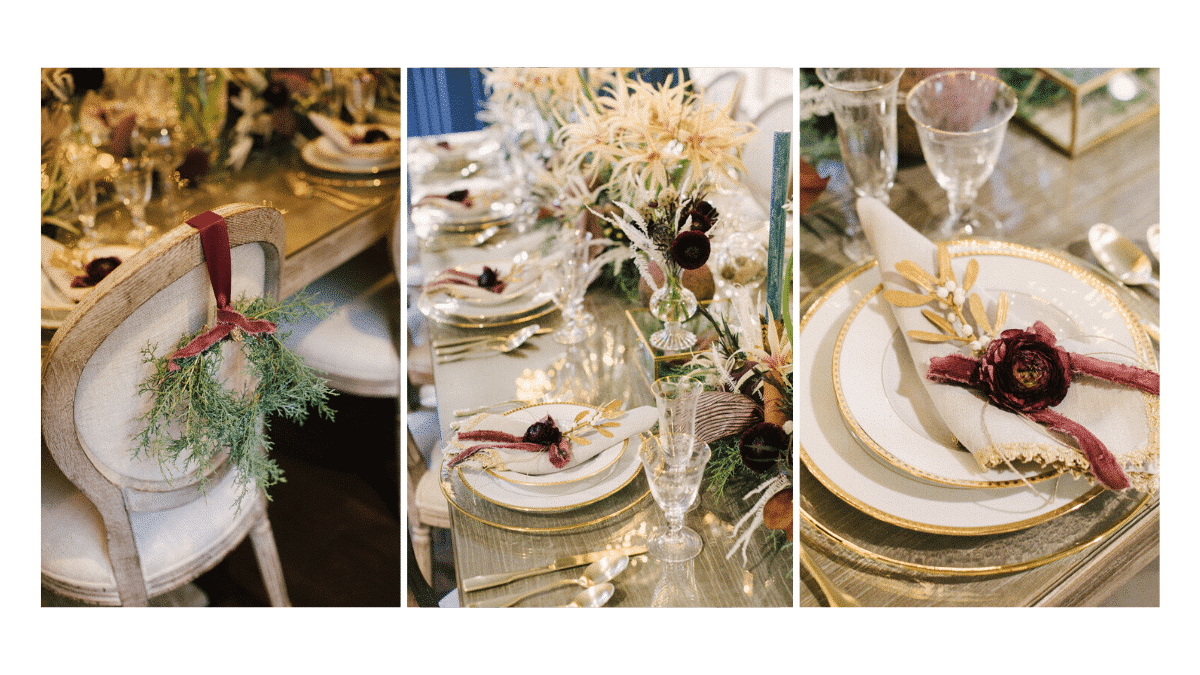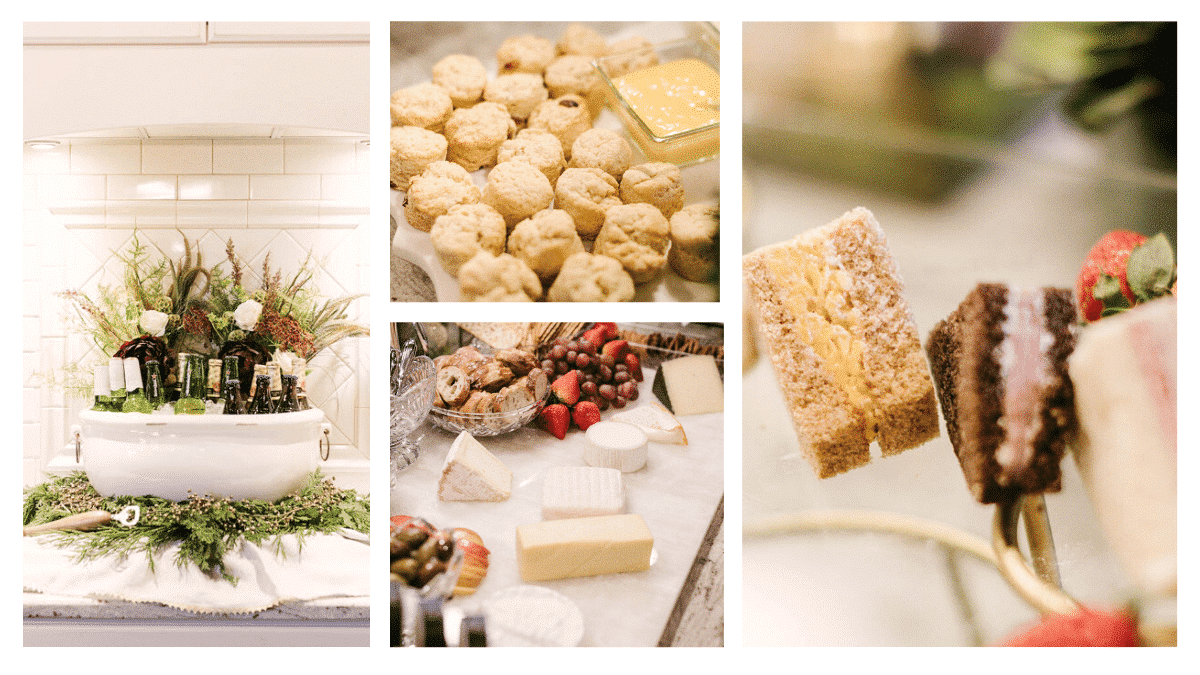 Style Everwhere
Holiday Magic in Fashionable Attire
Party Guests attended the festive brunch in requested white, off-metallic for ladies and navy, burgundy or grey for the gentleman.
Guests dressed in coordinating festive fashion gave the party and elevated chic experience.
Glam Squad Shout Out: Nicol's Makeup was by the fabulous Beke Beau and Hair by equally fabulous Jay Michael Salon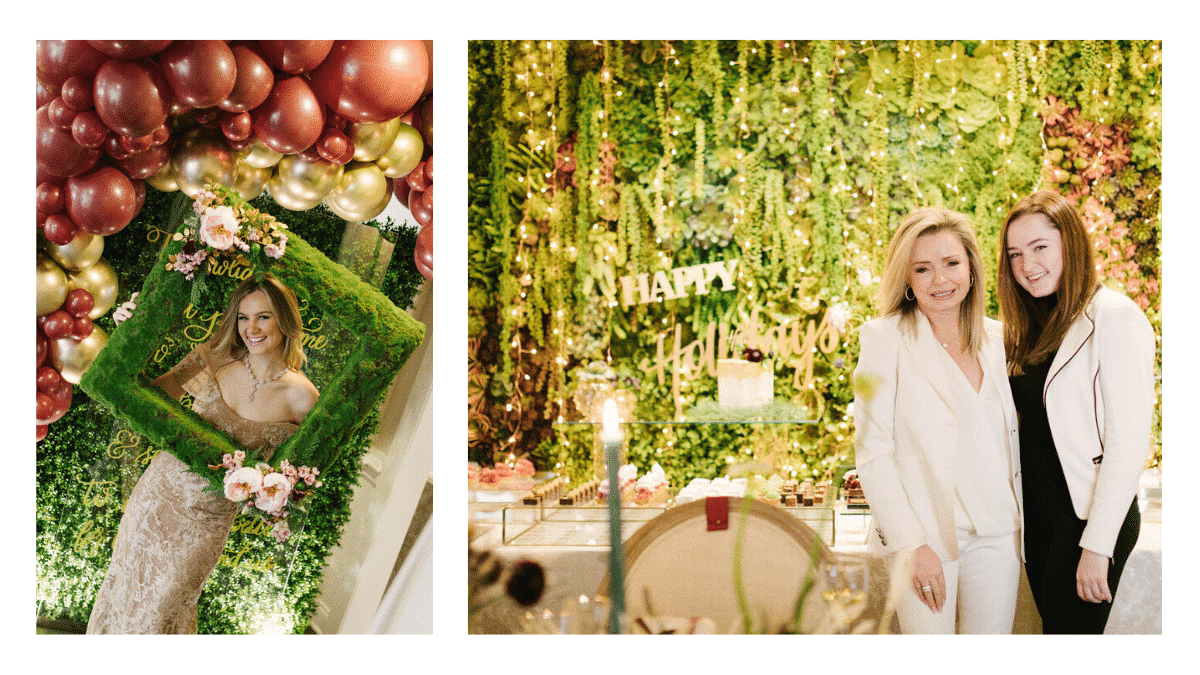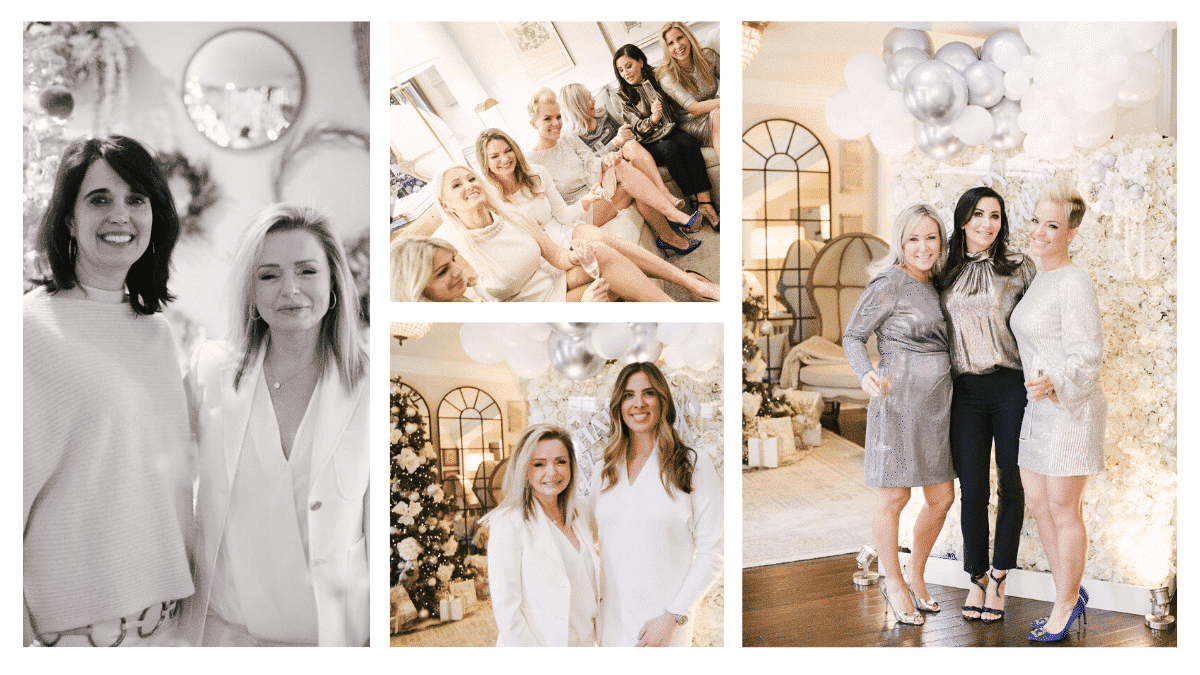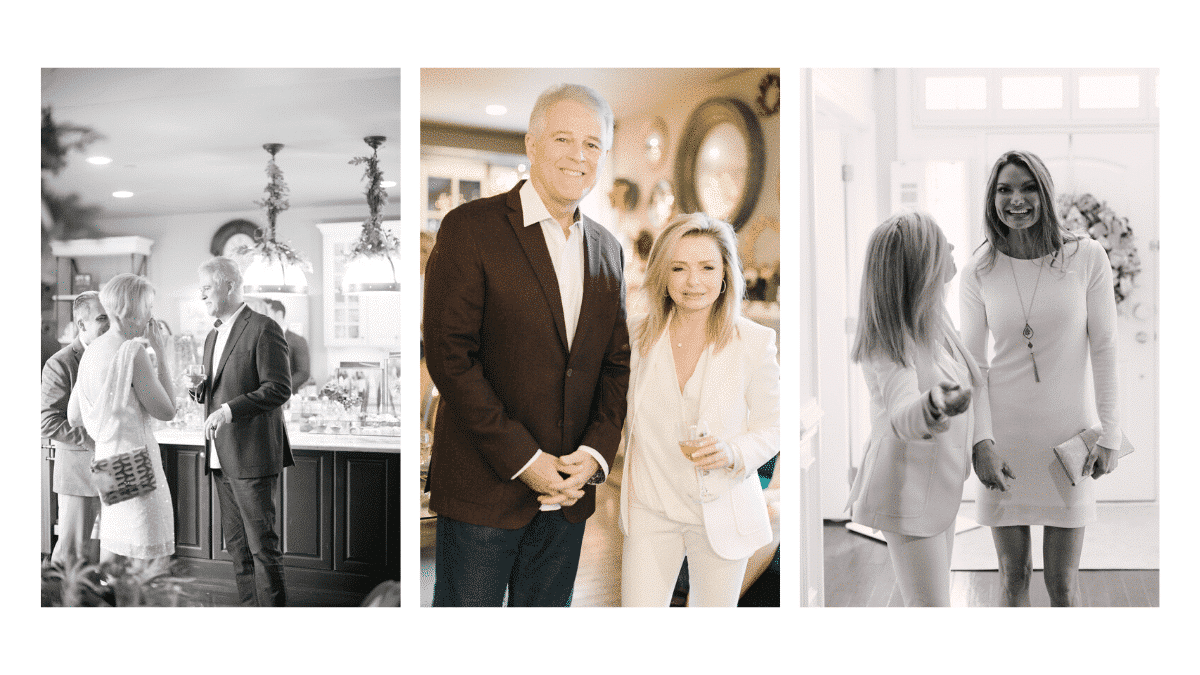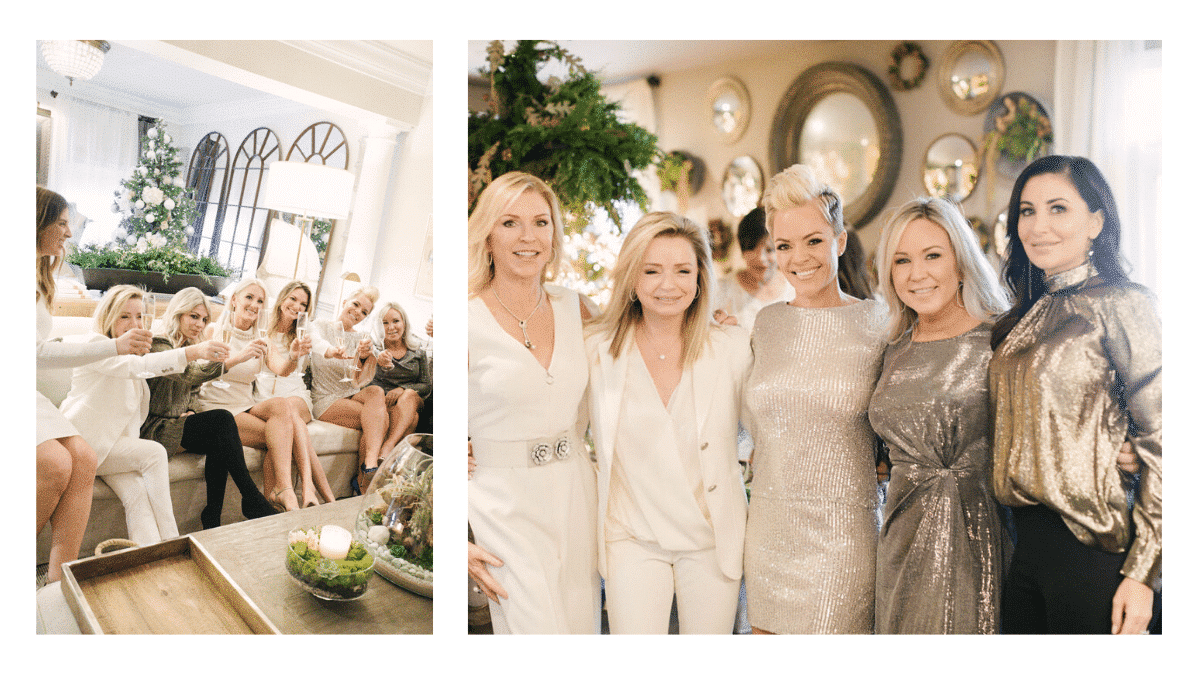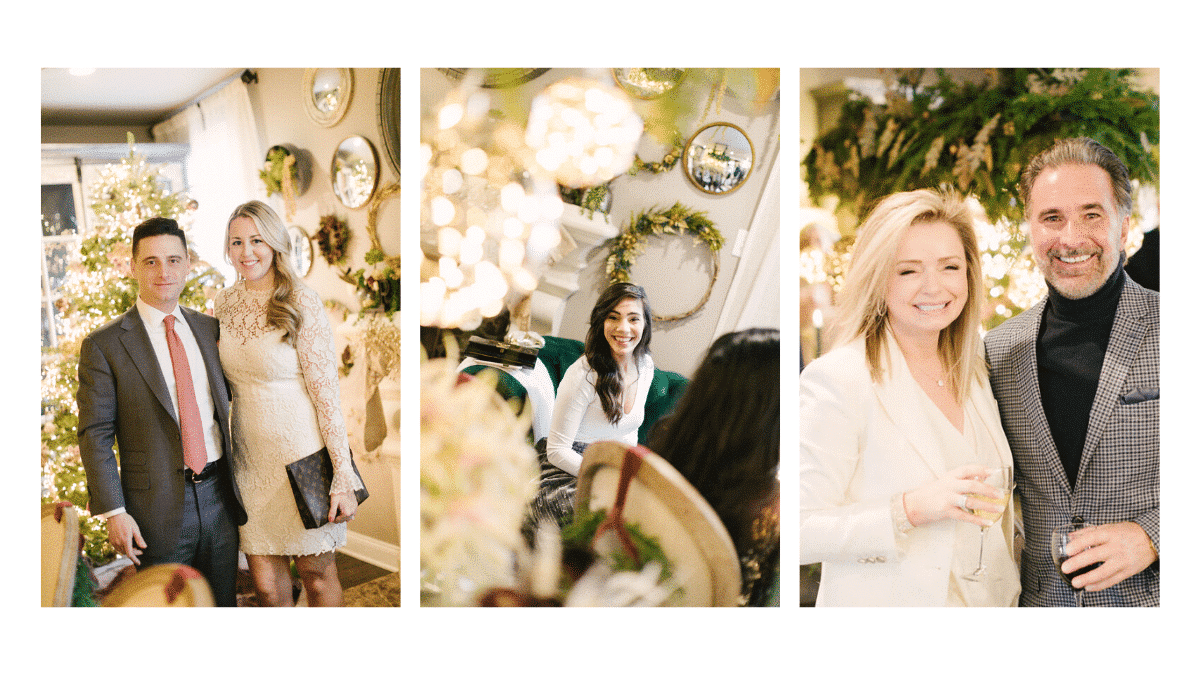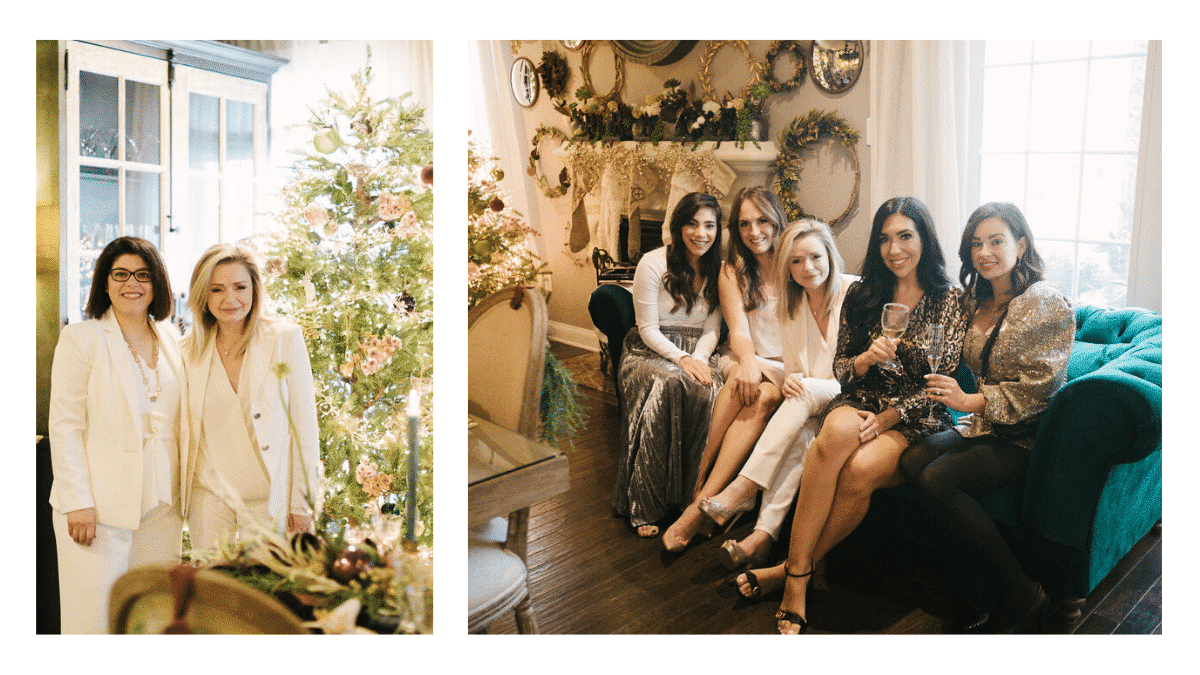 10 Entertaining Questions with Nicol Segel
1* After deciding the type of party, (dinner, brunch, cocktail) where do you turn next for creation or inspiration?

Nicol: I'm always looking at social media, Instagram, and Pinterest. I enjoy seeing the latest trends
2* When deciding a menu, what key items are considered?

Nicol: I love delicious finger food. I usually prefer cocktail parties. Presentation is a very important factor.
3* What beverages do you normally serve as time-honored favorites?

Nicol: White Wine and Prosecco are my two favorites but what I serve also depends on who is attending the party. I sometimes ask my guests what their preference is. It's important to me that they are happy. 
Have you found any new beverages you love?
Nicol: Yes, I recently found ONE HOPE which is a company I purchase from.
4* When designing a party what do you want your guests to experience?
Nicol: I have been in the restaurant business for over 30 years now. I trained in Europe and worked in some of the top hotels there. I bring that experience with me when planning an event. Every detail counts.
5* What is the best point you can give to a novice party host?
Nicol: I stage my home way in advance and never leave anything to the last minute. This allows me not to stress over it and instead, enjoy the process of getting ready for an amazing event.
6* Tell us something that happened last minute that was super successful for you at a past event.
Nicol: I once had a party during a snowstorm. I took advantage of the fresh snow to create a large tower using a silver bowl and created a beautiful presentation for shrimp cocktail. My guests were so mesmerized by this and it was quite beautiful.
7* What have you secretly wanted to feature at a party but never had the chance?
Nicol: I would love to have a gingerbread house event. I used to do this for my children when they were growing up but would love to have one now for adults. Using the best quality candy and dessert. 
8* What is your favorite sparkling white or champagne?
Nicol: My favorite Champagne in Veuve Cliquot
9* Who is your biggest entertaining style of inspiration?
Nicol: Probably Martha Stewart and Jeff Lethan for Flowers.
10* Where or when did you start learning the art of entertaining?
Nicol: I was born into the Hotel Business industry. I have entertained all my life.
All the vendors who helped make the party a hit can be followed on Instagram:
Table Display: @petah.bashano | Jewelry: @BernieRobbins | Model: @cheyforbes | Nicol: @NicolFloraldesign | Sushi: @teikokurestaurant | Desserts @DeliceChocolatArdmore @UltimateBakeShoppeWayne @aneucatering | Tea Sandwiches: @ATOBritain | Wine: @onehope | Photobooth @proparazzi_photobooths | Videographer @CinemaCake | Rental Furniture @whitegloverentals | Ballons @Peonies.Events | Photography @maddiemadalynne | Gifts Lingerie @maddiemadalynne | Calligraphy @hillarycarrcalligraphy | Nicol's Make up @bekebeau | Nicol's Hair Salon @jaymichaelsalon
For more Living Beautifully practices, Join Me and LB on:
Instagram to keep up with the visual feast
Youtube  For upcoming interviews and demonstrations
For the best experience, join the LB Community on Facebook